Dear Xander,
Last Saturday, at a birthday party hosted by Mummymoo for her 2-year-old son, you managed to score a big bunch of helium balloons, 5 normal coloured balloons topped with a gold star-shaped balloon.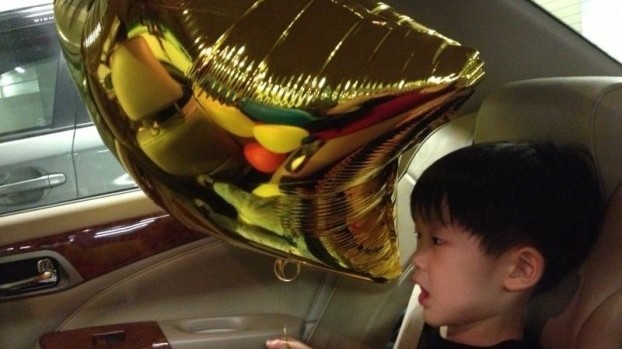 You always had a love for balloons of any sort, but that evening you were particularly infatuated with the gold star balloon in that bunch. But after the party, as we were driving, I noticed the star balloon was losing its volume slightly faster than what one would usually expect from such balloons, so I said to you, "Your balloon's losing gas. You know what would e a good idea? If we let it go while it's still floaty."
"Why?" you asked, not quite understanding the concept of a helium balloon losing gas and hence its ability to float. So I changed tactic.
"Because stars belong in the sky."
"Okay," you said. "I want to let go of the balloon." Your mother, who was sitting next to you in the car, was surprised when you said that; you have never ever volunteered to give up a balloon before.
We decided to stop over at Raffles City for some coffee before making our way home, an it was there that we found a suitable clearing where your star balloon was able to float up into the sky without obstruction.
As you prepared to let go, I said to you, "Now, you got to make a wish on the star before you let it go. Tell the star what you want and after it reaches the sky, it will get you what you want and make your wish come true."
"Okay," you said. You brought the star balloon right down to your face level, and said right into it, "Star, star. I want you to float up into the sky and make the Earth happy, so it won't be sick any more."
Your mother and I both paused in bewilderment upon hearing what you wished for. Then you turned to me and asked, "Can I let it go now?"
I nodded. And you let go.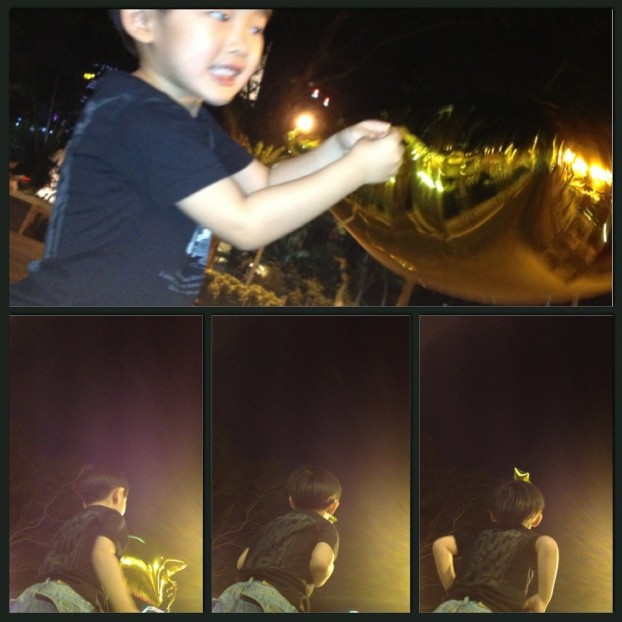 About 30 seconds later, you were bawling your eyes out, saying you wanted it back.
Regretfully,
Dad
***
Dear Star,
You better bloody do what you're told.
Xander's Father